This illuminated missal from the mid-15th century would have been used as part of the divine service before the Protestant Reformation. It was originally produced probably in a workshop in London for the church of Great Easton, Essex; the Calendar contains a note dedicating the Missal to the church ('Dedicacio ecclesie sancti Egidii de Eyston. ad montem') as well as evidence that it was still there in 1508.
A grant from FNL in 1932 helped the National Library of Wales to acquire this beautiful missal. A further FNL grant in 2017 enabled it to be digitised so that it is now freely accessible to all.
The Missal contains beautiful and striking decoration. The borders of pages are decorarted with stylised acanthus leaves, aroid flowers and other flowers and foliage, in gold and blue, pink, green and reddish brown.
History of the manuscript
The Revd W. H. Maskell put forward the theory that the Missal was the sole survivor of the 'use of Bangor', which led to it being known as the 'Bangor Missal', but this has not been substantiated by subsequent authorities on liturgical studies. An inscription at the end of the Calendar in the Missal states that the manuscript was presented to the parish church of Oswestry (then in the Diocese of St Asaph) in 1554 by Sir Morys Griffith, priest in Great Easton at the time. Its subsequent owners include James Brydges, Duke of Chandos (ob. 1744); Thomas Martin (who sold the Missal in 1772); William Maskell (before 1844); Henry Huth (1815-78), and then his son, Alfred Henry Huth (1850-1910); John Meade Falkner (1858-1932); and then sold on 13 December 1932 to The National Library of Wales.
You can access the digital version here.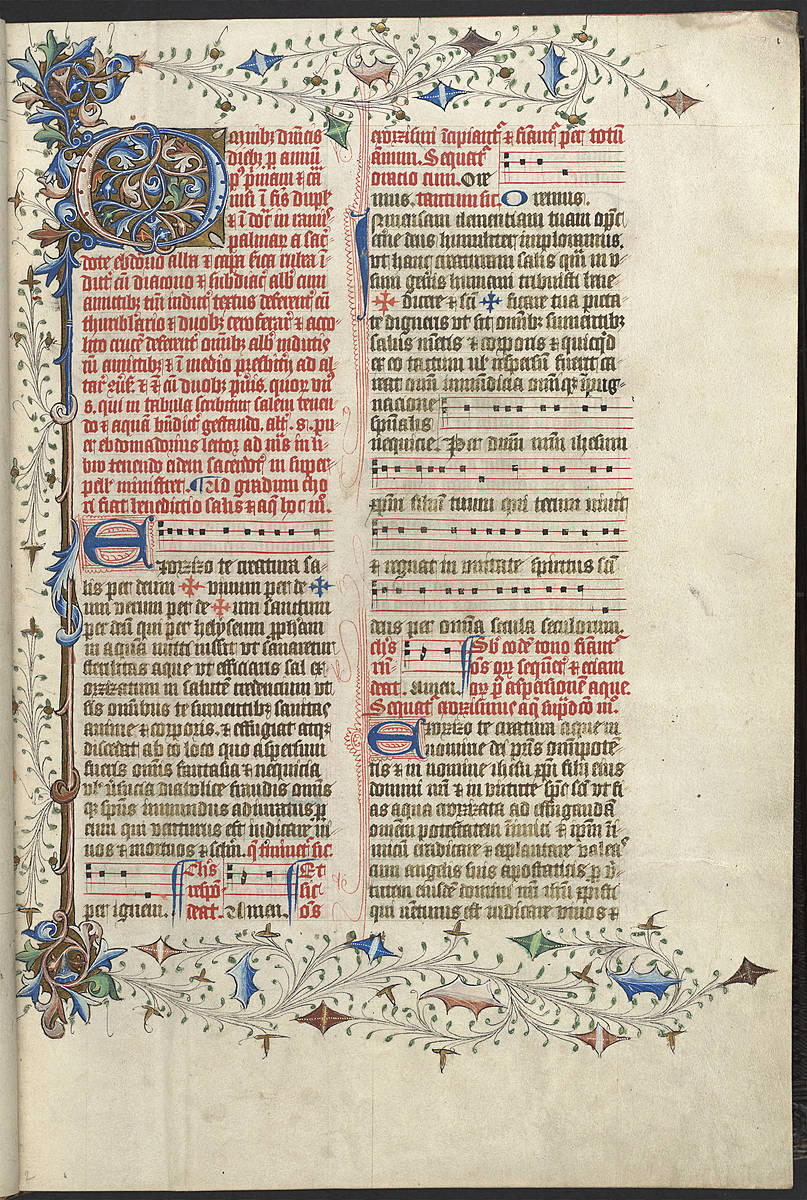 Text and images (c) National Library of Wales.